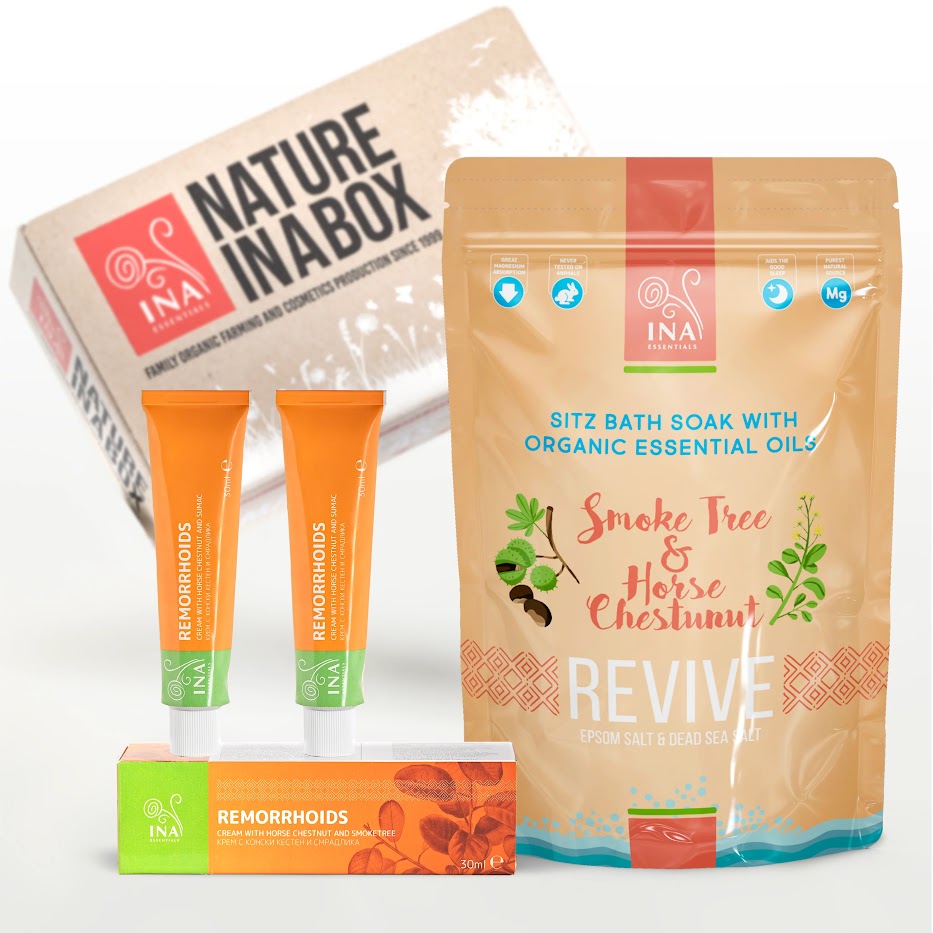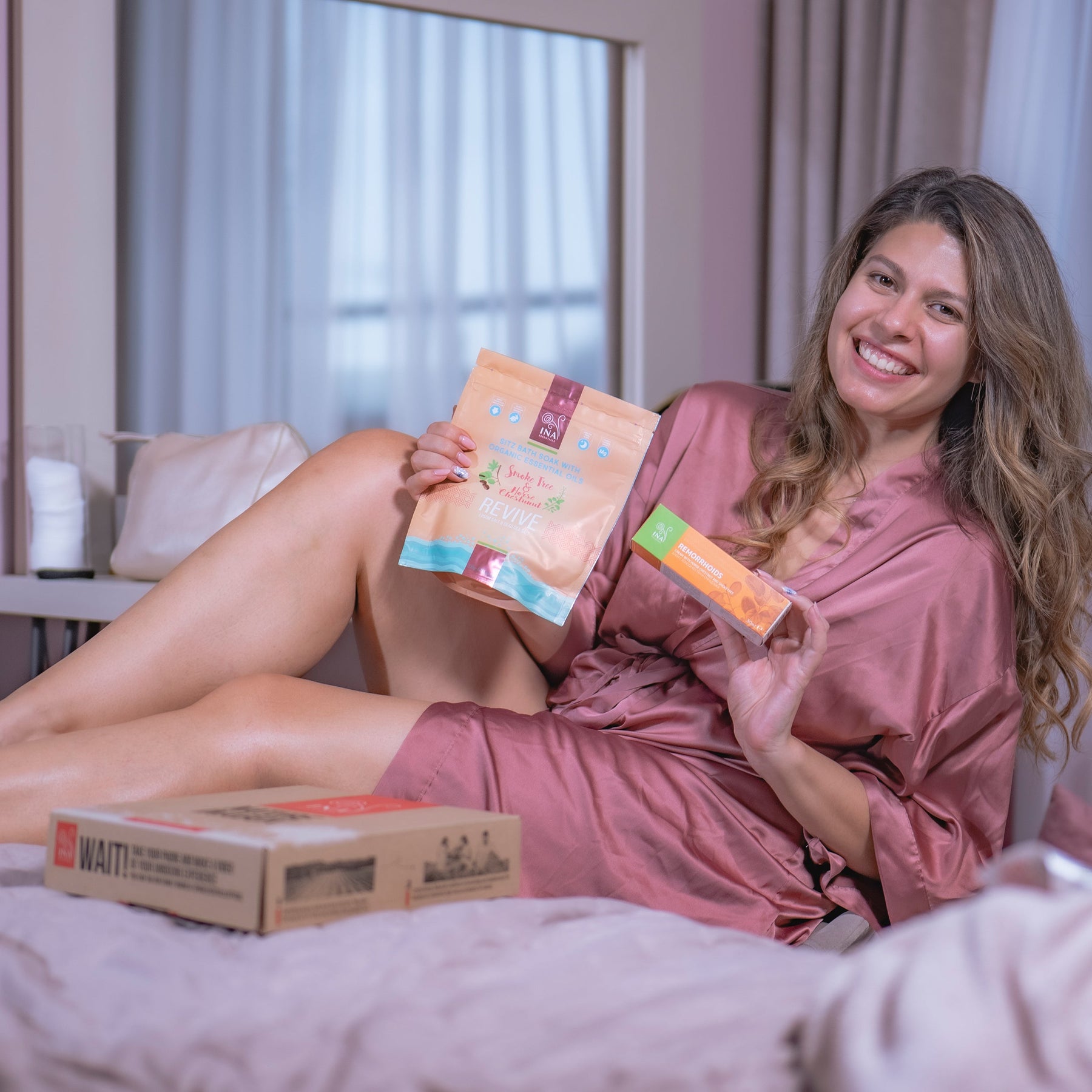 Varicose Veins RoutINA™ - lasting solution for Varicose veins
☑ ONCE-IN-A-LIFETIME GUARANTEE - If you use our RoutINA for 90 days and don't see a result - just write to us "REFUND" and we will refund your money without any questions asked!
⛟ Express 2-4 days delivery from our fulfilment center in the US 
Free Gifts with your order:
90 days routine, which solves your issue in the long run. 
Clinically proven results with InaEssentials® Varicose Veins RoutINA™, significant improvement in as little as 45 days
Helps reduce varicose veins and broken tissues & promotes healthier skin
Over 90% of our global customer base confirms the effectiveness of our products
Morning and Evening RoutINA™ - Calm and Protect
Step 1: Begin and end your day by applying our Remorrhoids Cream on the desired areas with light massage movements. This potent formula combines horse chestnut and smoke tree extracts to decrease swelling, work as an anti-inflammatory agent, and increase venous tone. The nourishing and moisturizing effect of natural ingredients soothes your skin, providing necessary relief.
Weekly Evening RoutINA™ - Relax and Revive
Step 1: 1-3 times a week, treat yourself to a relaxing bath using our Revive Bath Salt with Smoke Tree and Horse Chestnut. These salts, enriched with horse chestnut extract and smoke tree oil, relieve the feeling of heaviness and fatigue in your legs, reduce stress, and boost skin regeneration. The magnesium in the salts aids in boosting skin regeneration, promoting faster relief of any affected areas. 
Step 2: Applying our Remorrhoids Cream on the desired areas with light massage movements. 
How to use the Salts: 
• For the bath: Dissolve 50g of the salts in warm water for general toning. For a stronger effect, use as hot water as you can stand. Enjoy the bath for no longer than 15 minutes. A maximum of 3 baths per week is recommended.
• For foot and hand baths: Dissolve 1-2 tablespoons in 5 litres of warm water and soak for 10-15 minutes. The salts dissolve easily in water and are very well absorbed through the skin, which makes them perfectly suitable for therapeutic baths. 
The combination with essential oils is ideal for aromatherapy. The bath has a relaxing effect and enhances the harmony between body and spirit from the comfort of your home.
You don't have to wash it off after use. For external use only.
This two-step RoutINA™ works synergistically with your body's natural healing mechanisms, providing day-long protection and restorative care, offering a complete plan to manage and alleviate varicose veins, ensuring healthier, rejuvenated skin over time.
Our Varicose Veins RoutINA™ includes:
Remorrhoids - cream for Varicose veins and Hemorrhoids - highly enriched with Smoke Tree and Horse Chestnut (30ml), 
Revive - Bathing salt with Smoke Tree and Horse Chestnut for Varicose and Postpartum care (330g) 
This power-packed trio offers long-lasting relief from varicose veins, a condition characterised by discomfort, swelling, and visible vein networks.
The perfect match for all skin types.
Tested by more than 100,000 clients worldwide:
Our RoutINA™ has more than just beautiful packaging, it has proven results. With an incredible customer satisfaction rate of over 90%, these products have shown their effectiveness in soothing varicose veins, providing relief, and promoting overall skin health. Don't just take our word for it, read our clients' stories: HERE.
Long-term Results:
This varicose veins-fighting duo offers more than a temporary solution. Each product actively works to soothe and prevent future flare-ups, promising true relief in the long run.
The Powerful Active Ingredients
Remorrhoids Cream:
Combines horse chestnut extract and smoke tree oil for improved blood circulation, eased discomfort, and balanced skin.
Revive Bath Salts:
Merge Epsom salt, Dead Sea salts, horse chestnut extract, and smoke tree oil to rejuvenate tired legs, supply valuable minerals to the skin, and enhance skin regeneration. 
Full list of ingredients
Remorrhoids –Horse chestnut and Smoke tree Cream's Ingredients /INCI/: 
Aqua, Aesculus Hippocastanum Extract, Alcohol, Ricinus Communis Seed Oil, Prunus Amygdalus Dulcis Oil, Caprylic/Capric Triglyceride, Glyceryl Stearate, Peg-100 Stearate, Glycerin, Ammonium Cryloyldimethyltaurate/Vp Copolymer, Sodium Hyaluronate, Sodium Polyacrylate, Ethylhexyl Stearate, Trideceth-6, Potassium Alum, Cetearyl Alcohol, Phenoxyethanol, Ethylhexylglycerin, Cotinus Coggygria Leaf Oil, Lavandula Angustifolia Oil, Hydrolyzed Collagen, Panthenol, Tocopheryl Acetate, Retinyl Palmitate, Tocopherol, Tetrasodium Edta, Linalool, Limonene
Revive - Bathing salts with Smoke Tree and Horse Chestnut /INCI/: 
Magnesium Sulfate, Sodium Chloride, Cotinus Coggygria Branch/Leaf Oil*, Helianthus Annuus Seed Oil*, Aesculuts Huppocastaum Seed Extract*, Rosmarinus Officinalis Leaf Extract*, Limonene**
*Certified Organic Ingredients
**Natural Ingredients Of Essential Oils
Our Varicose Veins RoutINA™ is:
Vegan, cruelty-free, family-produced, and organic.
With no parabens, artificial fragrances, and colouring.
Produced by sustainable farming techniques.
In an amazing 100% recyclable bottle.
The Family Promise: Pure, Honest, Genuine
"I still cherish the memory of our children's unfiltered joy as they played and helped in our gardens. It is my personal mission to channel this innocent, childlike delight to all of our customers, no matter their age. That is the essence of our family brand: we leave nothing to coincidence because we're involved in every stage of the process:

Our family takes care of each plant - from planting to harvesting
The hydrolats are made right in our own distillery.
Each day, my children and I genuinely engage in your comments and messages, creating a family-like bond.
We are invested in every story that our products help create."
- Veselina Ralcheva - Mother, Founder of InaEssentials, and Organic Farmer of the Year "2019"
A Purpose Beyond Profit: "How Our Brand is Making an Impact"
At InaEssentials, we believe in giving back to the communities that have supported us. That's why we are proud to offer employment opportunities to members of minority groups, helping to support their livelihoods and provide them with a brighter future. By choosing our organic products, you are not only improving your own health and beauty, but you are also making a positive impact on the lives of others. Join us in making a difference today.

Your Trust Inspires Us
In just five years, our Varicose Veins RoutINA™ has become a favourite natural solution, with over 100,000 bottles delivered worldwide. The pride we take in our low return rate (below 1% ) validates our dedication to quality and customer satisfaction.
Secure & Swift Delivery
Payment Methods: by card
- PayPal
- Master Card
- Visa
Deliveries are made with the courier services of USPS. The delivery is within 2-4 working days.
Delivery prices:
Courier services of USPS - 4.99 USD
FREE Shipping for orders over 79 USD
Our Guarantee: Your Satisfaction
We hope that you are delighted with your order, but if for some reason you are not we have set out below a summary of your rights in the event that you wish to return a product :)
☑FAMILY GUARANTEE - If you use our RoutINA™ for 90 days (3-month supply) and don't see a result - you get a full refund + 40 pounds worth of organic products of your choice!
Important: The refund guarantee only works if you order a 3-month supply option. If you order 2 month's supply and after that 1-month supply it will not be active
There is no refund currently for single products in our store. The refund guaranty is only for the 3-month RoutINA™
Important: Even if you ordered single product we will find a way to compensate you and make you happy so contact us :) For us making every customer happy is key!
How your future with RoutINA looks like:
During the first month, our Varicose Veins RoutINA™ starts to work its magic. Your legs start to feel lighter, and you'll notice a reduction in swelling and discomfort. This is because our products begin to improve blood circulation and reduce venous congestion, addressing the primary causes of varicose veins.
In the second month, we go deeper. Our Varicose Veins RoutINA™ focuses on the real root of the problem - weakened vein walls. Our products work to strengthen the veins, enhance their elasticity, and improve valve function, which significantly reduces the pooling of blood and the formation of varicose veins.
By the third month, you'll notice something amazing. Your body begins to manage varicose veins on its own. That's because our products have been supporting your venous system, improving its natural mechanisms. You'll notice a significant reduction in varicose veins and experience less discomfort and swelling. It's not just about fighting varicose veins; it's about building a stronger, more resilient venous system.
FAST.EASY.EFFECTIVE.
How to use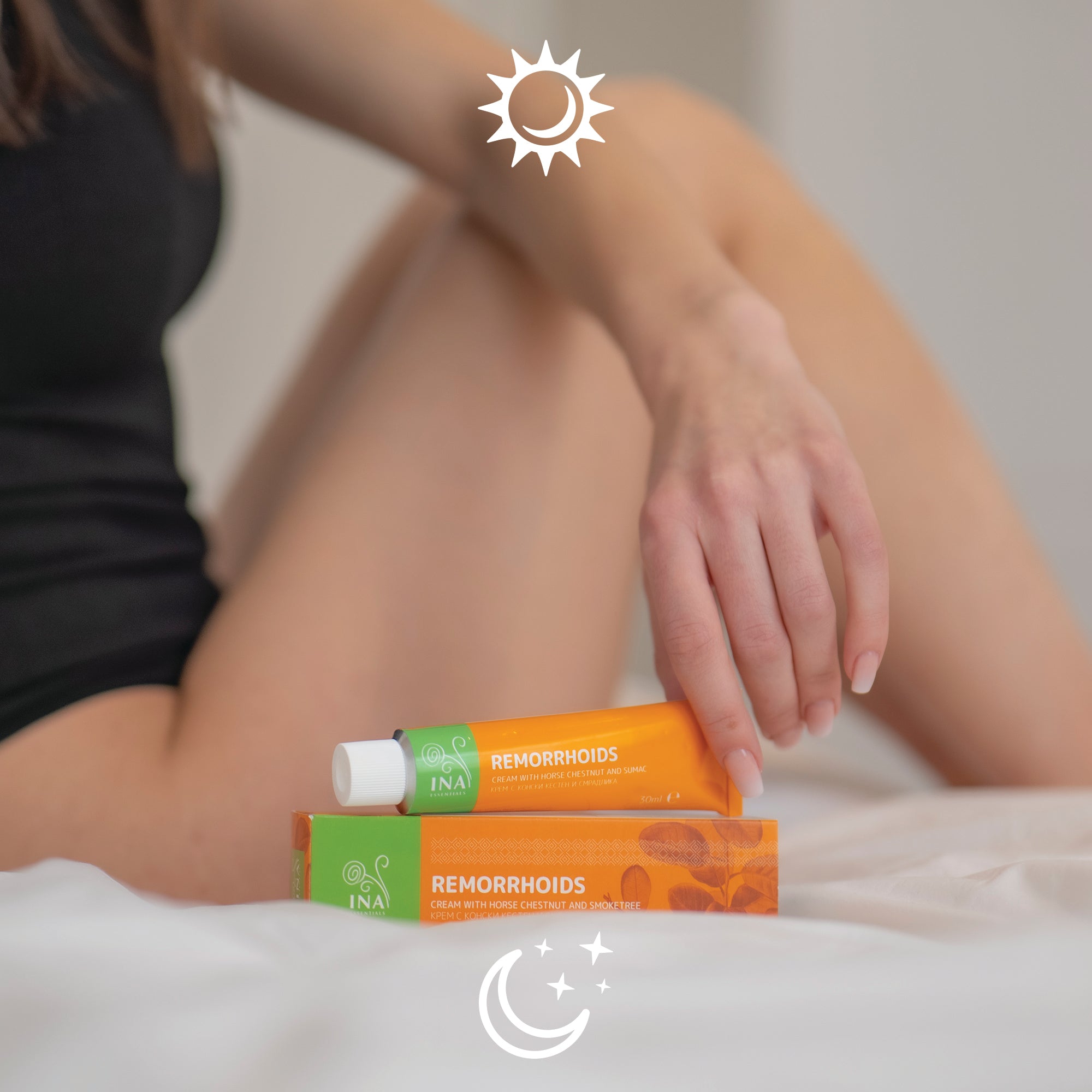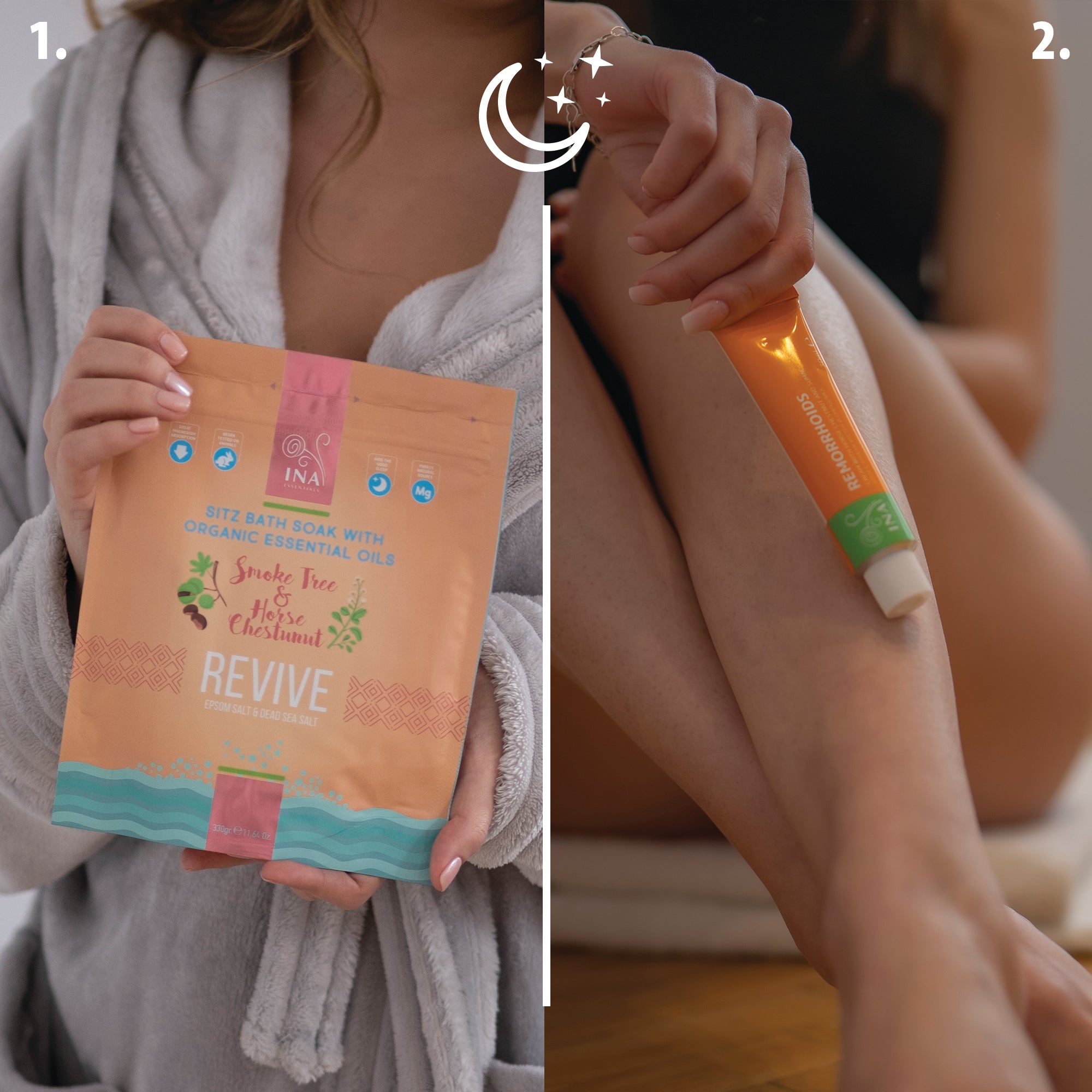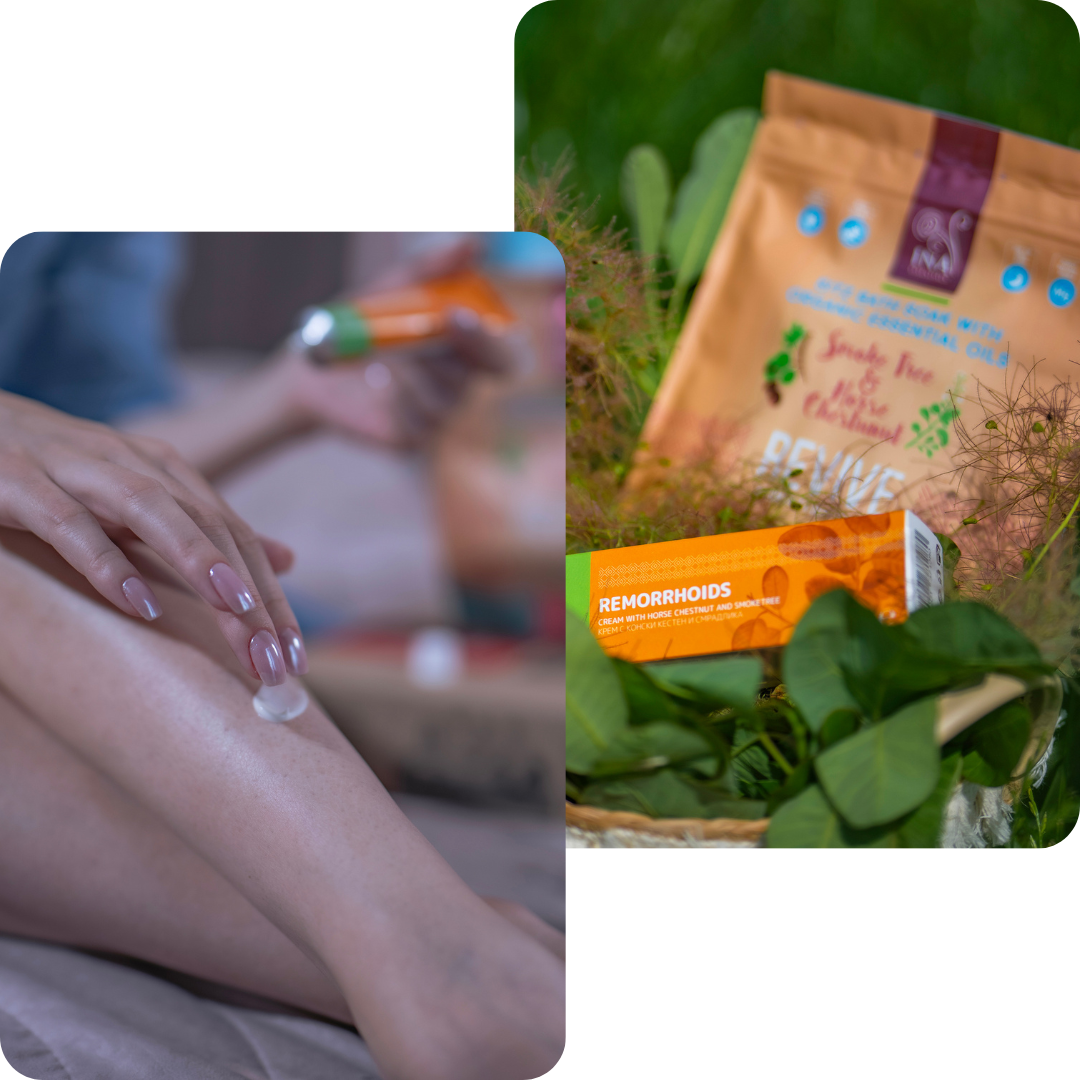 YOUR SKIN- YOUR CHOICE.
Ditch the chemicals.
Give up products full of chemicals of unknown origin. Go back to the basics and choose the natural way for solving your skin problems.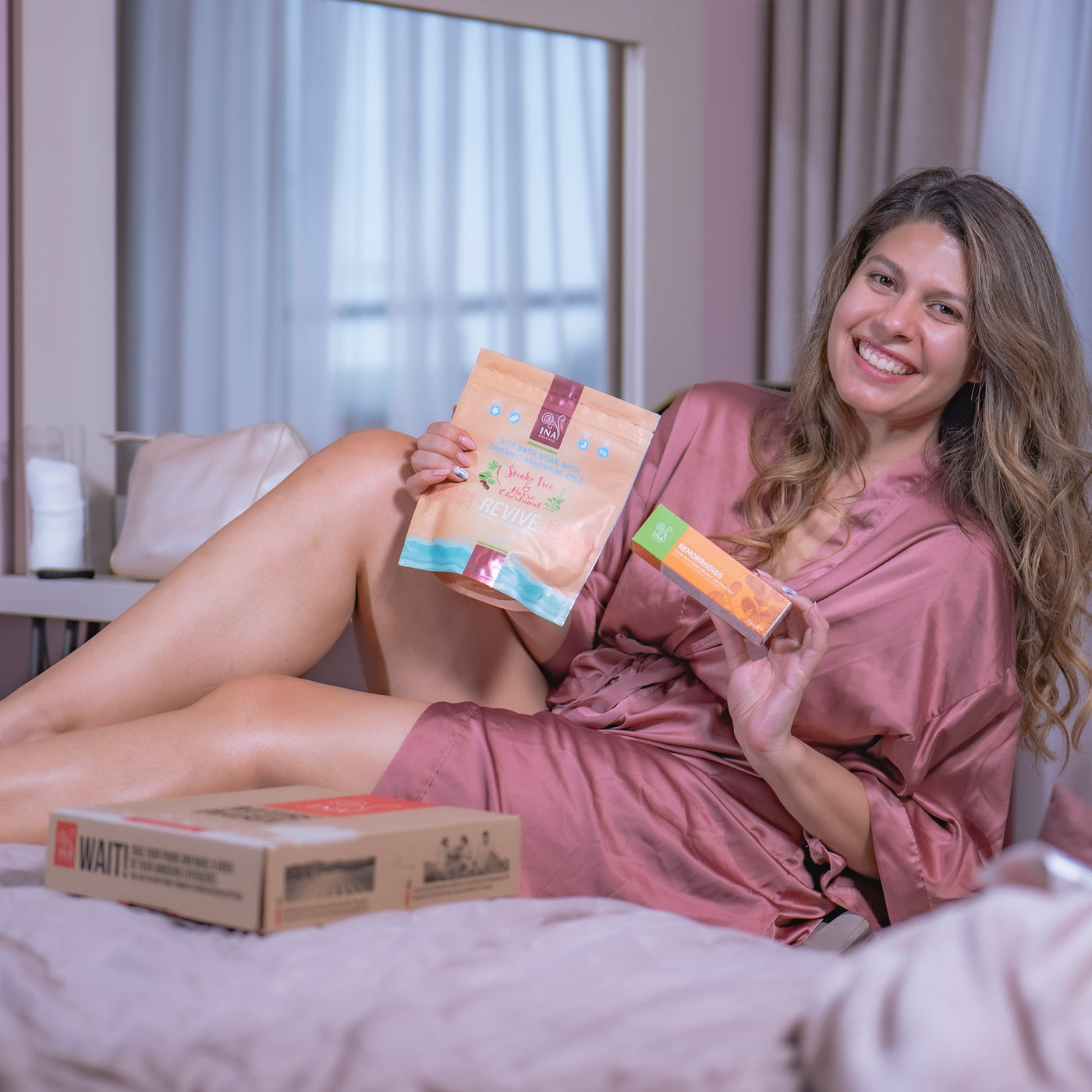 Your nature-based new best friend.
Feel nature's delicate touch on your skin. Each product is rich in high-quality essential oils which give your skin pure, natural beauty. Crafted from handpicked herbs at our family distillery, their magic is bottled just for you.