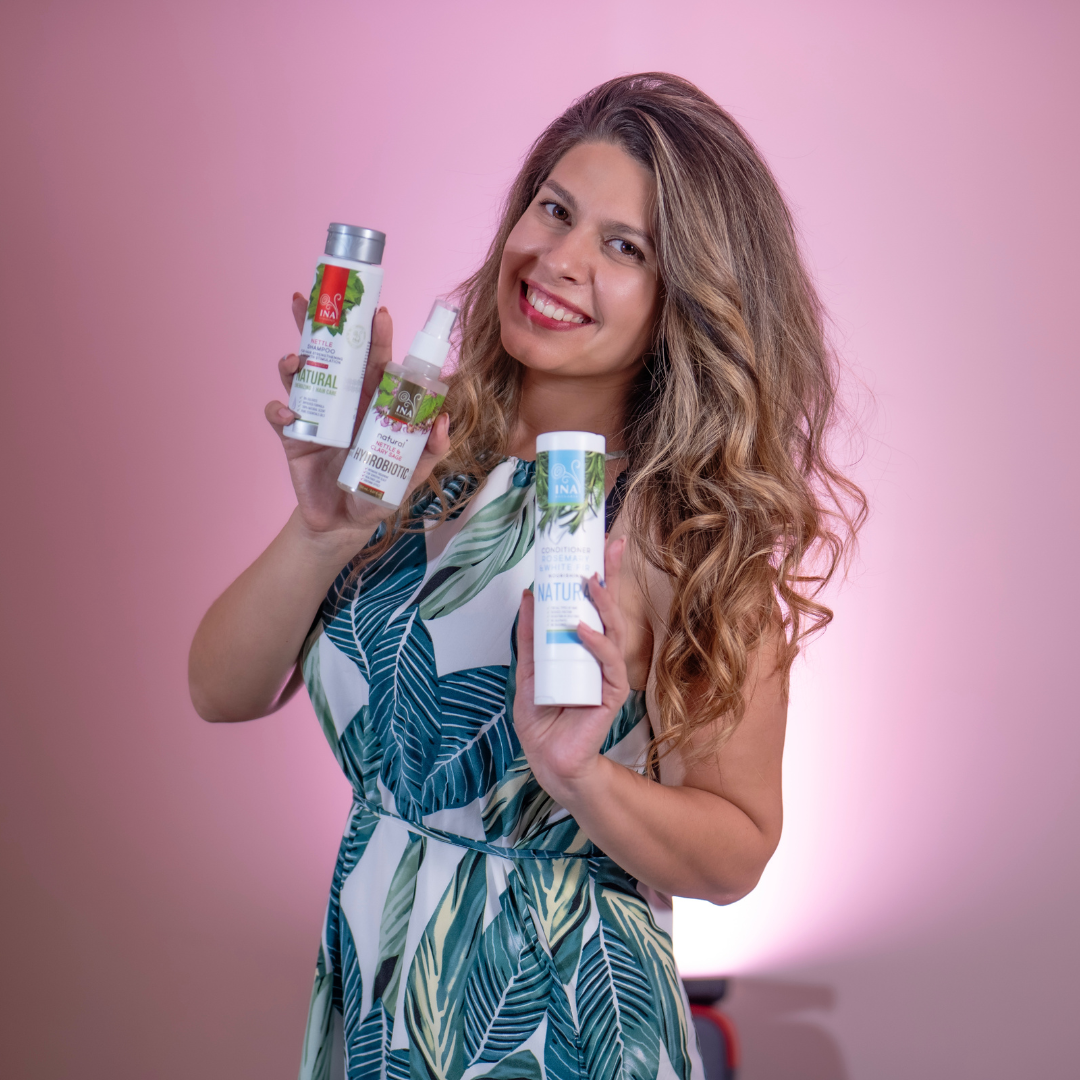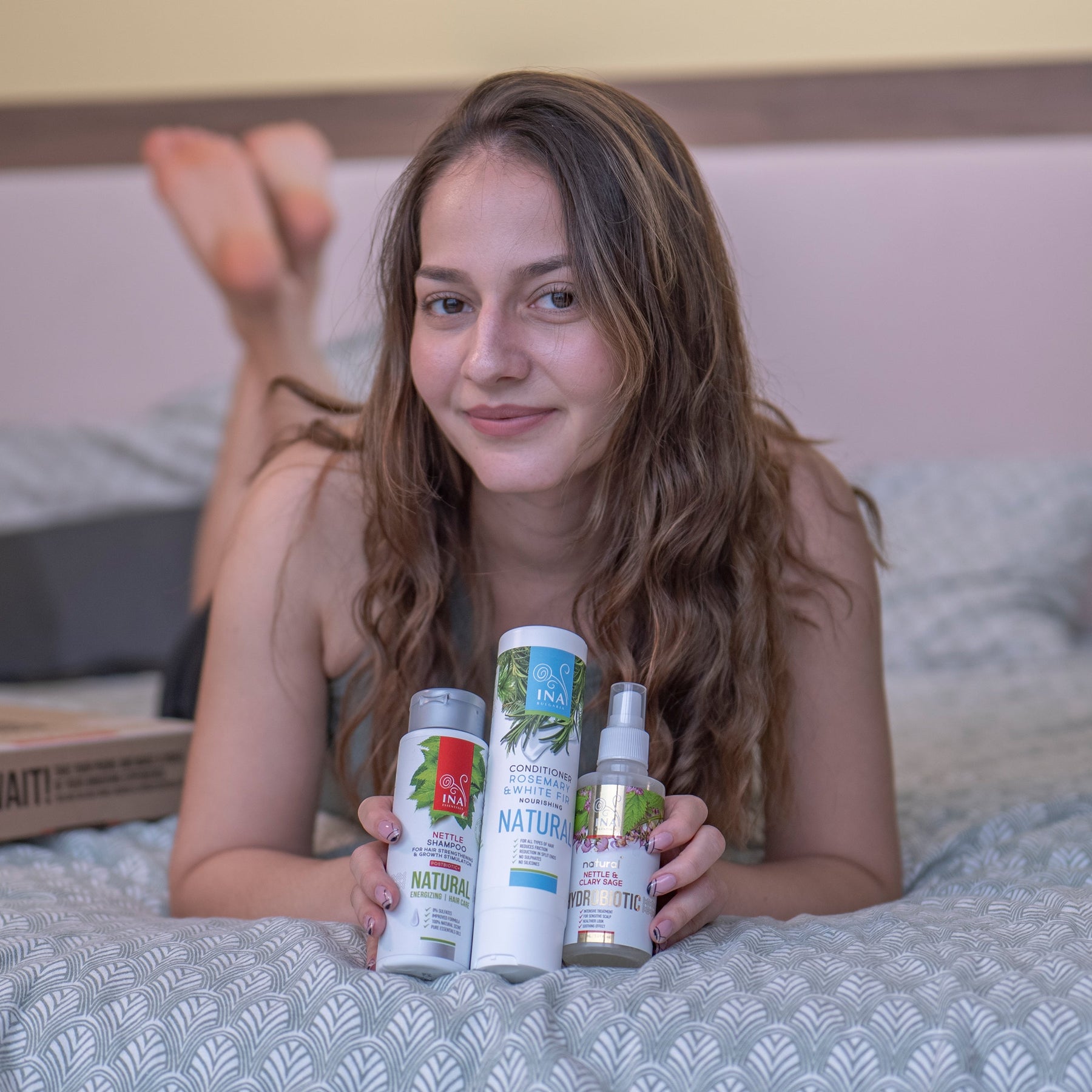 Hair Loss RoutINA™ for Her - lasting solution for Hair Loss
☑ ONCE-IN-A-LIFETIME GUARANTEE - If you use our RoutINA for 90 days and don't see a result - just write to us "REFUND" and we will refund your money without any questions asked!
⛟ Express 2-4 days delivery from our fulfilment center in the US 
Free Gifts with your order:
90 days routine, which solves your issue in the long run.
Clinically proven results with InaEssentials® Hair loss RoutINA™ for Her, noticeable improvement in as little as 45 days
Helps reduce symptoms of hair loss, and encourages healthier scalp and hair growth
Over 90% of our global customer base confirms the effectiveness of our product
Morning or Evening RoutINA™ - Invigorate and Stimulate
Step 1: Cleanse the scalp with our new and improved Natural Nettle Shampoo for Hair Loss enriched with Hyperferment postbiotic complex - fermented nettle, oak bark, and liquorice extracts. This shampoo not only cleanses the day's dirt but also strengthens your hair, stimulates growth, and reduces hair loss, all while maintaining your hair's natural moisture.
Step 2: Then, nourish the hair with our Natural Hair Conditioner with Rosemary and White Fir. It nurtures and fortifies the hair, reducing friction, increasing shine, and promoting healthy hair growth.
Step 3: End your RoutINA™ with Hydrobiotic - Nettle & Clary Sage.
This innovative formula is powered by Hyperferment - a postbiotic complex of nettle, oak bark, and liquorice, specially developed in а high-tech laboratory in Bologna, Italy. Each of these plants has been found to have specific properties that are beneficial for hair growth and overall health. It deeply hydrates and balances your scalp's microbiota, effectively acting as a night-time guard for your scalp and hair.
This simple RoutINA™ works in harmony with your body's natural repair mechanisms. It provides daytime protection and nighttime restoration, offering a comprehensive plan to handle hair loss and reduce split ends, ensuring a healthier scalp and shinier hair over time.
Our Hair Loss RoutINA™ for Her includes:
Natural Nettle Shampoo for Hair Loss (200ml) 
Natural Hair Conditioner with Rosemary oil and White Fir - intensive nourishing care for every hair type (200ml), 
Hydrobiotic - Nettle & Clary Sage - intensive care for Hair loss, Dandruff, and Sensitive scalp (150ml). 
The perfect match for normal, combination, and oily-prone scalp and hair.
Tested by more than 100,000 clients worldwide:
Our RoutINA™ for Hair Loss has more than just beautiful packaging, it has proven results. With an incredible customer satisfaction rate of over 90%, these products have shown their effectiveness in reducing hair loss and improving overall scalp and hair health. Don't just take our word for it, read clients' stories: HERE.
Long-term Results:
This hair loss-fighting trio offers more than a temporary fix. Each product amplifies the scalp's natural defences, maintaining healthy hair follicles, thus preventing future hair loss for a lasting improvement.
The Powerful Active Ingredients
Natural Nettle Shampoo:
Combines organic nettle water and nettle extract, rich in carotenoids, flavonoids, vitamin C and iron to stimulate hair growth and rejuvenate hair follicles. Peppermint and Melissa essential oils provide hydration and soothing relief to the scalp, complemented by a refreshing aroma. Hyperferment, a postbiotic complex of fermented nettle, oak bark, and liquorice extracts, promotes hair growth and scalp health while protecting against harmful microorganisms.
Natural Conditioner:
Contains White Fir water to nourish the hair and reduce split ends, VegeKer Plus as an essential hemp seed-based nutrient for hair, serving as an alternative to animal keratin, and Rosemary oil to restore overall health and nourish the hair.
Hydrobiotic - Nettle & Clary Sage: Features Nettle and Clary Sage Hydrolinas, combined with our Hyperferment postbiotic complex. Nettle Hydrolina fights oiliness and strengthens follicles to reduce hair loss. Clary Sage Hydrolina addresses dandruff, rejuvenates, and soothes the scalp. Enhanced by fermentation, Hyperferment boosts these effects and protects the scalp from harmful bacteria and thinning of hair.
Full list of ingredients
Natural Nettle Shampoo for Hair Loss Ingredients /INCI/: 
Aqua, Urtica Dioica Extract, Sodium Methyl Cocoyl Taurate, Disodium Cocoamphodiacetate, Lauryl Glucoside, Sodium Chloride, Cocamidopropyl Betaine, Glycerin, Benzyl Alcohol, Citric Acid, Potassium Sorbate, Guar Hydroxypropyltrimonium Chloride, Sodium Benzoate, Mentha Piperita Oil, Melissa Officinalis Leaf Oil, Urtica Dioica Leaf Extract, Glycyrrhiza Glabra Root Extract, Quercus Robur Bark Extract, Saccharomyces Ferment Lysate Filtrate, Sorbitol, Lecithin, Tocopheryl Acetate, Glyceryl Linoleate, Glyceryl Linolenate, Retinyl Palmitate, Sodium Ascorbyl Phosphate, Xanthan Gum, Limonene
Natural Hair Conditioner's Ingredients /INCI/: 
Aqua, Abies Alba Leaf Water, Behenamidopropyl Dimethylamine, Dipalmitoylethyl Hydroxyethylmonium Methosulfate, Cetyl Alcohol, Stearyl Alcohol, Lactic Acid, Propylene Glycol, Crambe Abyssinica Seed Oil Phytosterol Esters, Glycerin, Aloe Barbadensis Leaf Extract, Hydrolyzed Hemp Seed Extract, Hydrolyzed Rice Protein, Citric Acid, Sodium Benzoate, Potassium Sorbate, Panthenol, Rosmarinus Officinalis Leaf Oil, Disodium EDTA, Phenoxyethanol, Ethylhexylglycerin
Hydrobiotic - Nettle & Clary Sage's Ingredients /INCI/: 
Urtica Dioica Leaf Extract, Salvia Sclarea (Clary Sage) Flower/Leaf/Stem Water, Aqua/Water, Urtica Dioica Leaf Extract, Glycyrrhiza Glabra Root Extract, Quercus Robur Bark Extract, Saccharomyces Ferment Lysate Filtrate, Citric Acid*, Sodium Benzonate*, Potassium Sorbate*
*Naturally synthesized byproducts of the fermentation.
Our Hair Loss RoutINA™ for Her is: 
Vegan, cruelty-free, family-produced, and organic.
With no parabens, artificial fragrances, and colouring.
Produced by sustainable farming techniques.
In an amazing 100% recyclable bottle.
The Family Promise: Pure, Honest, Genuine
"I still cherish the memory of our children's unfiltered joy as they played and helped in our gardens. It is my personal mission to channel this innocent, childlike delight to all of our customers, no matter their age. That is the essence of our family brand: we leave nothing to coincidence because we're involved in every stage of the process:

Our family takes care of each plant - from planting to harvesting
The hydrolats are made right in our own distillery.
Each day, my children and I genuinely engage in your comments and messages, creating a family-like bond.
We are invested in every story that our products help create."
- Veselina Ralcheva - Mother, Founder of InaEssentials, and Organic Farmer of the Year "2019"
A Purpose Beyond Profit: "How Our Brand is Making an Impact"
At InaEssentials, we believe in giving back to the communities that have supported us. That's why we are proud to offer employment opportunities to members of minority groups, helping to support their livelihoods and provide them with a brighter future. By choosing our organic products, you are not only improving your own health and beauty, but you are also making a positive impact on the lives of others. Join us in making a difference today.

Your Trust Inspires Us
In just five years, our Hair Loss RoutINA™ has become a favourite natural solution for hair loss, with over 100,000 bottles delivered worldwide. The pride we take in our low return rate (below 1%) validates our dedication to quality and customer satisfaction.
Secure & Swift Delivery
Payment Methods: by card
- PayPal
- Master Card
- Visa
Deliveries are made with the courier services of USPS. The delivery is within 2-4 working days.
Delivery prices:
Courier services of USPS - 4.99 USD
FREE Shipping for orders over 79 USD
Our Guarantee: Your Satisfaction
We hope that you are delighted with your order, but if for some reason you are not we have set out below a summary of your rights in the event that you wish to return a product :)
☑FAMILY GUARANTEE - If you use our RoutINA™ for 90 days (3-month supply) and don't see a result - you get a full refund + 40 pounds worth of organic products of your choice!
Important: The refund guarantee only works if you order a 3-month supply option. If you order 2 month's supply and after that 1-month supply it will not be active
There is no refund currently for single products in our store. The refund guaranty is only for the 3-month RoutINA™
Important: Even if you ordered single product we will find a way to compensate you and make you happy so contact us :) For us making every customer happy is key!
How your future with RoutINA looks like:
During the first month of adopting our hair care routine, significant improvement is observed as your hair starts to shed less and less. This is because our products begin to nourish and strengthen your hair from root to tip, minimizing hair fall and breakage.
In the second month, we go deeper. Our routine focuses on the real root of the problem - unhealthy scalp conditions and weakened hair follicles. Our products work to rejuvenate your scalp health, promote blood circulation, and strengthen hair follicles, leading to decreased hair loss and promoting the growth of new, healthy hair.
By the third month, you'll notice something amazing. Your hair begins to handle growth and regeneration on its own. This is because our products have been nurturing your scalp and hair, boosting their natural healing and growth mechanisms. You'll notice a significant reduction in hair loss and an increase in hair density and volume. It's not just about reducing hair loss; it's about fostering healthier, thicker, and more resilient hair.
FAST.EASY.EFFECTIVE.
How to use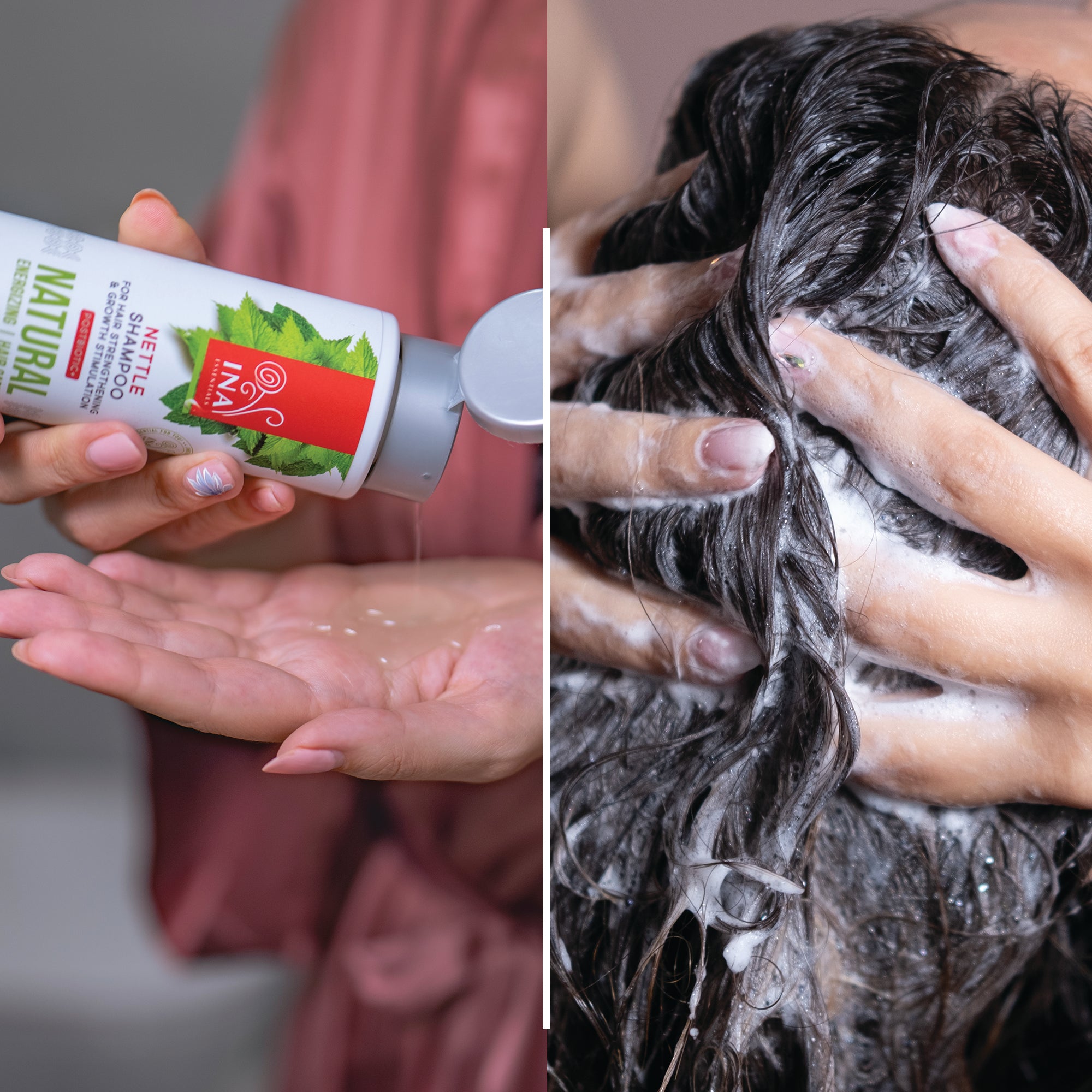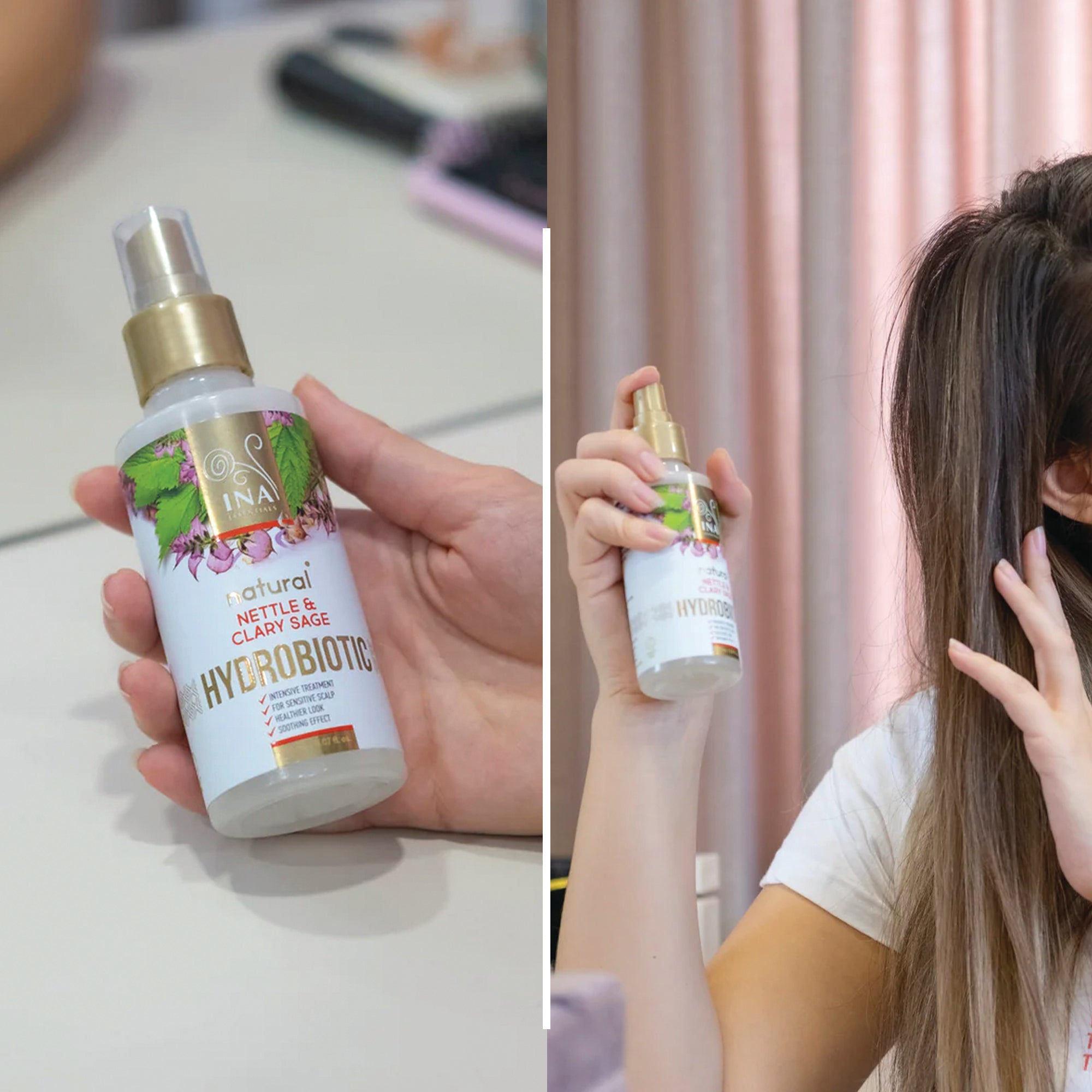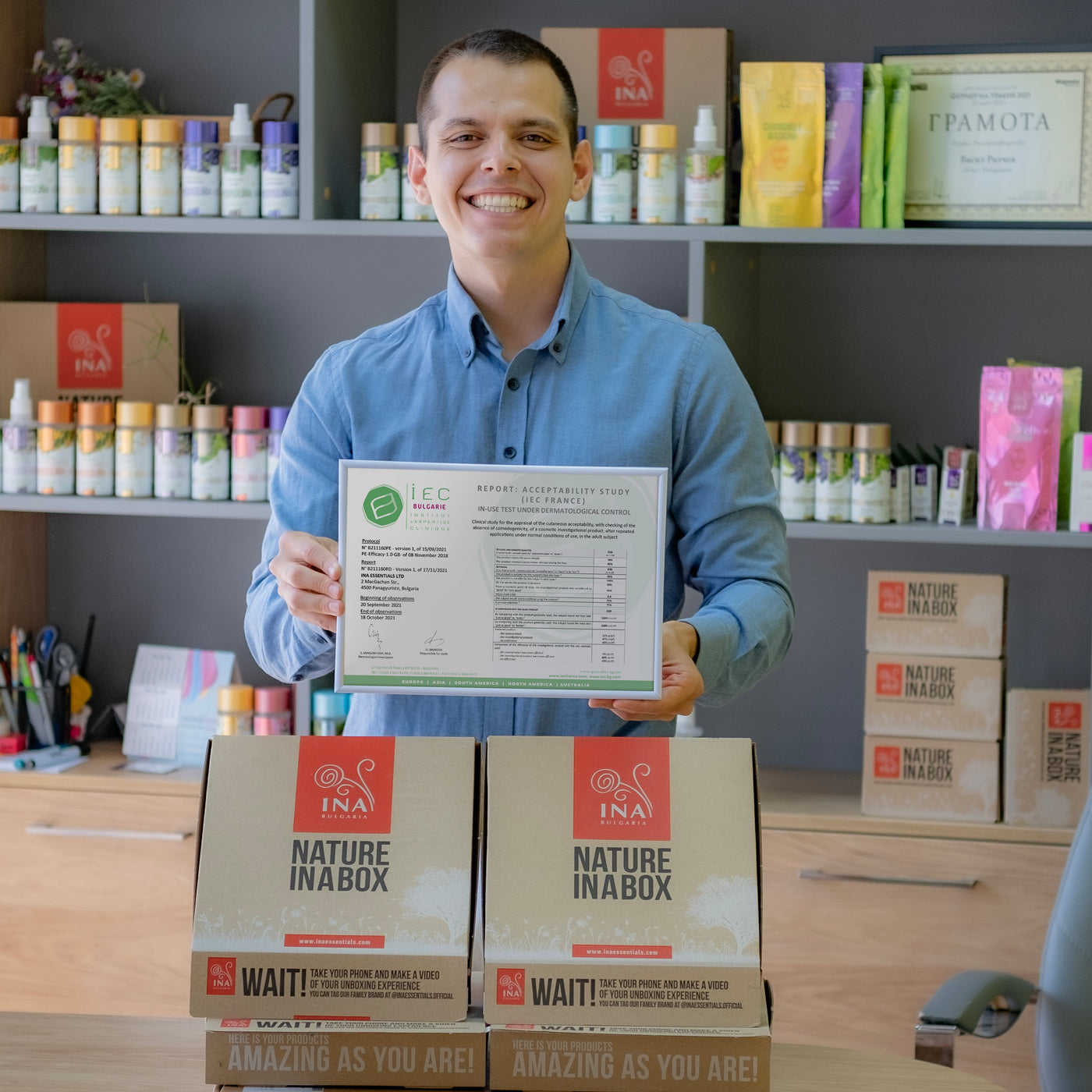 We have developed and trademarked the RoutINA™ formula. Clinically tested in a third-party study in Phenbiox Italy.
Our Hair Loss RoutINA™ demonstrated the following results in 90 days:
18% Stimulates hair growth
10.3% Promotes hair density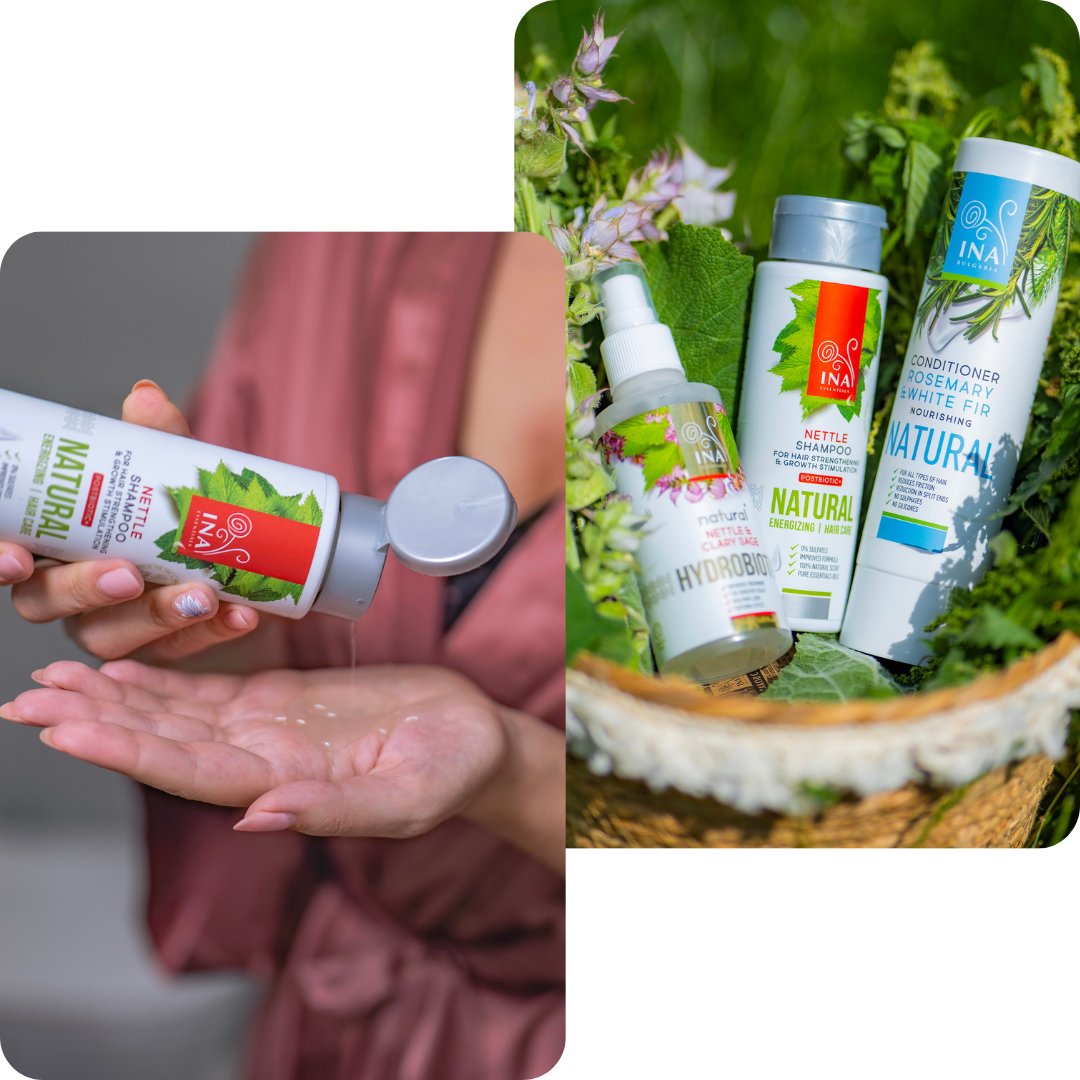 YOUR SKIN- YOUR CHOICE.
Ditch the chemicals.
Give up products full of chemicals of unknown origin. Go back to the basics and choose the natural way for solving your skin problems.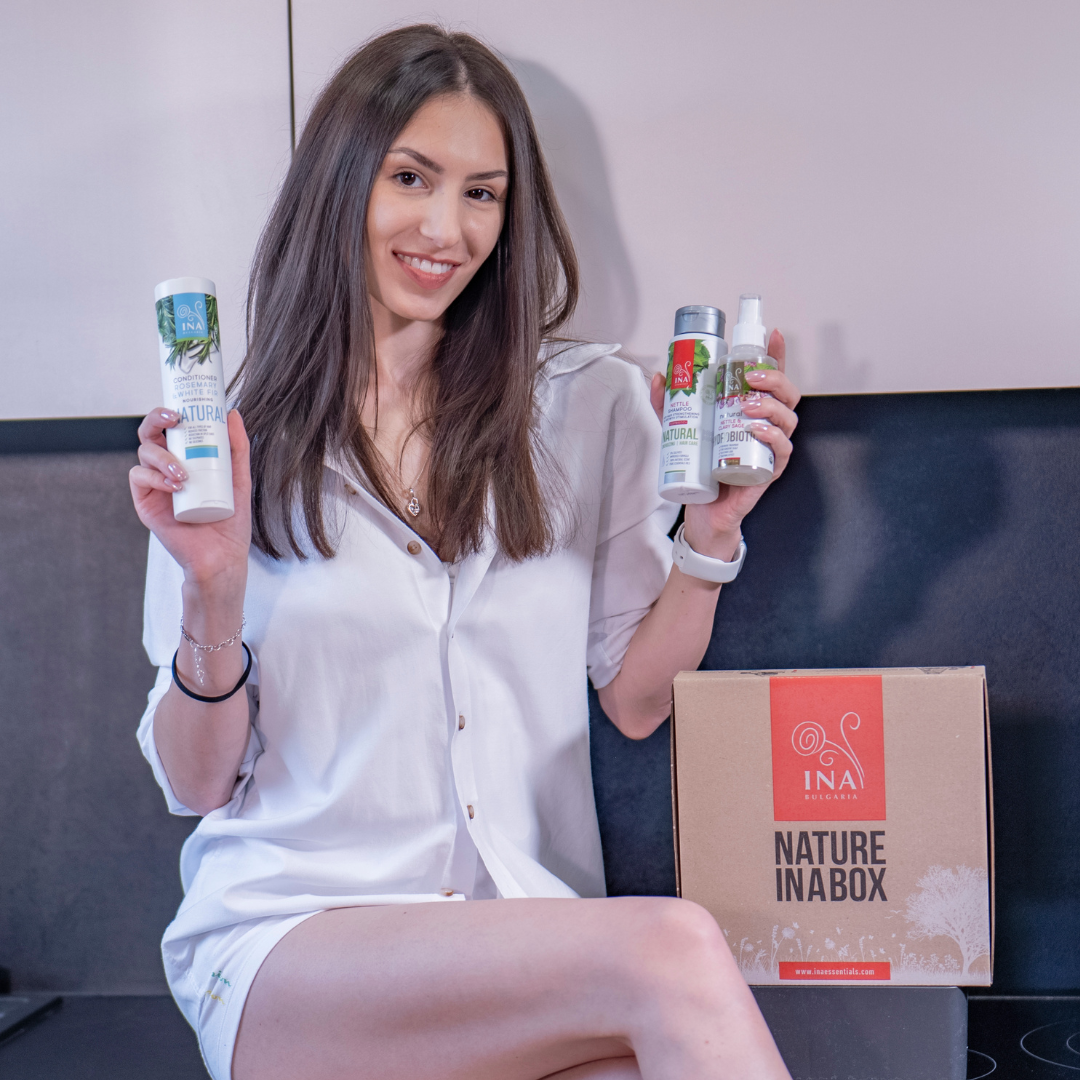 Your nature-based new best friend.
Feel nature's delicate touch on your skin. Each product is rich in high-quality essential oils which give your skin pure, natural beauty. Crafted from handpicked herbs at our family distillery, their magic is bottled just for you.
Excellent products
Love the nettle shampoo and rosemary conditioner my scalp and hair feels nourished. I will definitely be purchasing again and again, chemicals are gone from my life, couldn't be happier.
Soft,shiny and healthy.
I used this shampoo for a month or so with mixed feelings.I found it hard to get any sort of lather with my thick hair.U need to follow the instructions..I had not been leaving the shampoo on for 2 minutes as reccomended.Once I did this the 2nd repeat wash was a dream.Follow up with the conditioner and a splash of rose hydrolina on the ends to finish. Love this combination.Hair stays fresher and cleaner for longer too.Can't see myself returning to normal shampoo and conditioners any time soon.
Happy with the product
The nettle hair shampoo is so good. The hair after wash feel so soft and full volume .It helps a lot with getting rid of dandruff and oily hair.My girls and I are quite happy and will be purchasing again.
Natural hair conditioner
Used this product with the lavender shampoo and feels amazing on my hair , will deffo buy this product again .
Happy Customer
It's taken me more than one year and many £000's spent on trying to find the right conditioner that is helping to calm my very irritated itchy scalp
I truly believe that I have found my go to conditioner in Ina Rosemary and White Fir, it's certainly helping in calming the itch in my scalp