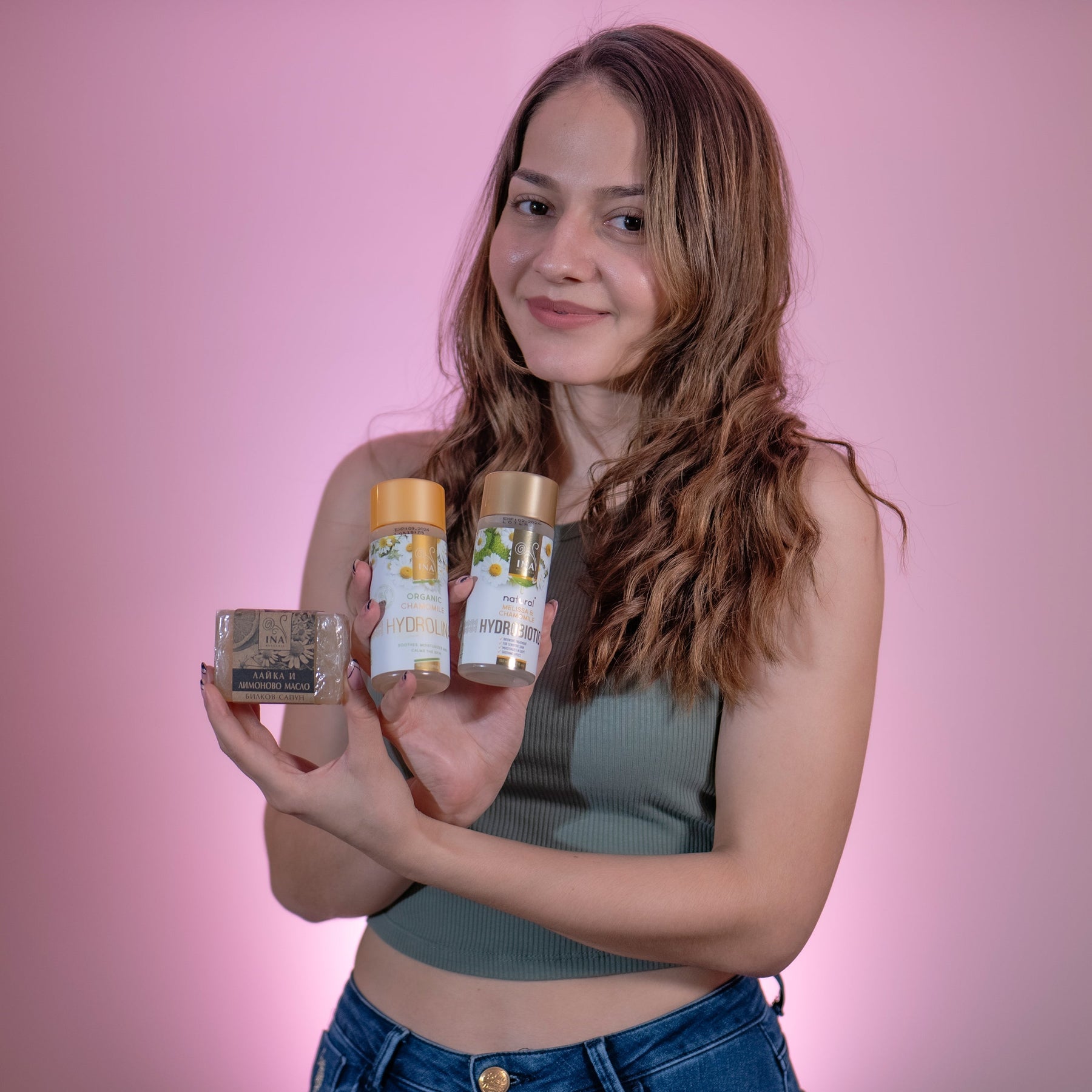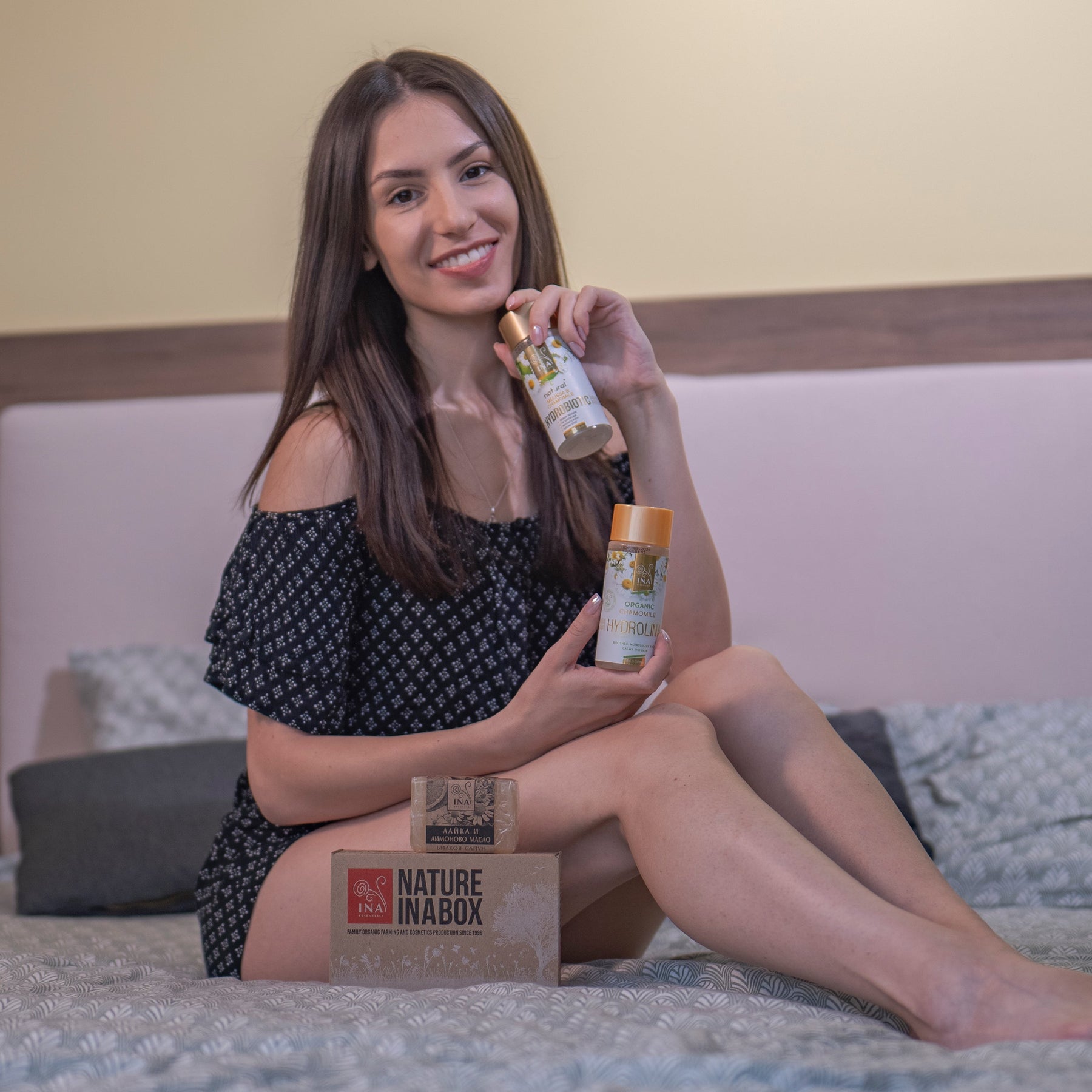 Eczema RoutINA™ - lasting solution for Eczema & Skin Irritations
☑ ONCE-IN-A-LIFETIME GUARANTEE - If you use our RoutINA for 90 days and don't see a result - just write to us "REFUND" and we will refund your money without any questions asked!
⛟ Express 2-4 days delivery from our fulfilment center in the US 
Free Gifts with your order:
90 days routine, which solves your issue in the long run.
Clinically proven results with InaEssentials® Eczema RoutINA™, noticeable improvement in as little as 45 days:
Helps reduce eczema & promotes healthier skin
Over 90% of our global customer base confirms the effectiveness of our products
Morning RoutINA™ - Cleanse and Protect
Step 1: In the morning, start by washing the affected area with our Chamomile Herbal Soap to remove impurities that the skin has shed overnight. 
Step 2: Then, apply our 100% Organic Chamomile Water - Hydrolina.
The anti-inflammatory properties of Chamomile Water calm the skin, reduce redness, and create a protective shield against daytime irritants, providing the ideal environment for your skin to breathe and thrive.
Evening RoutINA™ - Cleanse and Regenerate
Step 1: In the evening, repeat the cleansing with our Chamomile Herbal Soap to wash off the day's pollutants. 
Step 2: Afterwards, apply the Hydrobiotic - Chamomile, Melissa & Aloe Vera.
This innovative formula is enriched with Aloe Vera postbiotic complex - fermented Aloe extract, specially developed for us in а high-tech laboratory in Bologna, Italy.
The product works while you sleep, a time when your skin is naturally regenerating. The Aloe Vera postbiotic complex accelerates wound healing processes, strengthens your skin's natural barrier, and balances your skin's microbiota. It's like a night-time bodyguard, fighting against harmful microorganisms and nurturing your skin's health.
This simple two-step RoutINA™ works with your body's natural regenerative mechanisms. It gives daytime protection and nighttime repair, offering a complete plan to handle and soothe eczema, ensuring healthier, happier skin over time.
Our Eczema RoutINA™ includes:
Natural Herbal Soap with Chamomile and Lemon Oil - calming effect (110g)
Organic Chamomile water - Hydrolina for Eczema and Irritated skin (150ml), 
Hydrobiotic - Chamomile, Melissa & Aloe Vera - intensive soothing care for Sensitive skin (150ml) 
This power-packed trio offers a long lasting relief from eczema - an inflammation of the skin characterized by pain, redness, swelling, burning and itching, and in severe cases - cracking and bleeding.
The perfect match for all skin types.
Tested by more than 100,000 clients worldwide:
Our RoutINA™ has more than just beautiful packaging, it has proven results. Garnering an incredible customer satisfaction rate of over 90%, these products have shown their effectiveness in soothing eczema, dermatitis, rashes, and wounds while promoting overall skin health. Don't just take our word for it, read our clients' stories: HERE.
Long-term Results:
This eczema-fighting trio offers more than a temporary solution. Each product goes deep beneath the skin surface to soothe, heal, and prevent future flare-ups, and together they ensure healthier and happier skin in the long run.
The Powerful Active Ingredients
Herbal Soap with Chamomile and Lemon oil: 
Combines Plant Glycerin and Beeswax for deep hydration and antimicrobial protection. Enhanced with Lemon Oil and Chamomile Water, it revitalizes and soothes the skin, while Coconut Oil and Cocoa Butter promote skin elasticity and repair.
Organic Chamomile Hydrolina:
Hydrates, rejuvenates and soothes skin irritations, making it a key ally in combating eczema.
Hydrobiotic - Chamomile, Melissa & Aloe Vera:
Unites Chamomile and Melissa Hydrolina with a potent Aloe Vera postbiotic complex. Chamomile Hydrolina hydrates and fights skin irritations, while Melissa Hydrolina soothes and repairs. The innovative Aloe complex amplifies their effects, providing a strong defense against harmful microorganisms.
Full list of ingredients
Herbal Chamomile & Lemon oil Soap's Ingredients /INCI/: 
Aqua, Propylene Glycol, Sorbitol, Sodium Stearate, Glycerin, Potassium Olivoyl Hydrolyzed Wheat Protein, Myristyl Lactate, Cocos Nucifera (Coconut) Oil, Ricinus Communis (Castor) Seed Oil, Beeswax, Anthemis Nobilis Flower Water, Lauryl Glucoside, Disodium Cocoyl Glutamate, Coco Betaine, Sodium Hydroxide*, Citrus Limon Fruit Oil, Limonene.

Chamomile Hydrolina's Ingredients /INCI/ - Matricaria Chamomilla Flower Water

Hydrobiotic - Chamomile, Melissa & Aloe Vera - intensive care for SENSITIVE skin  /INCI/:
Chamomilla Recutita (Matricaria) Flower Water, Melissa Oficinalis (Melissa) Flower/Leaf/Stem Water, Aloe Barbadensis Leaf Juice, Saccharomyces Ferment Lysate Filtrate, Citric Acid*, Sodium Benzonate*, Potassium Sorbate*
*Naturally synthesized byproducts of the fermentation.
Our Eczema RoutINA™ is:
*Vegan, cruelty-free, family-produced, and organic.
With no parabens, artificial fragrances, and colouring.
Produced by sustainable farming techniques.
In an amazing 100% recyclable bottle.
*Only the Natural Soap Bar is not vegan due to the beeswax inside it.
The Family Promise: Pure, Honest, Genuine
"I still cherish the memory of our children's unfiltered joy as they played and helped in our gardens. It is my personal mission to channel this innocent, childlike delight to all of our customers, no matter their age. That is the essence of our family brand: we leave nothing to coincidence because we're involved in every stage of the process:

Our family takes care of each plant - from planting to harvesting
The hydrolats are made right in our own distillery.
Each day, my children and I genuinely engage in your comments and messages, creating a family-like bond.
We are invested in every story that our products help create."
- Veselina Ralcheva - Mother, Founder of InaEssentials, and Organic Farmer of the Year "2019"
A Purpose Beyond Profit: "How Our Brand is Making an Impact"
At InaEssentials, we believe in giving back to the communities that have supported us. That's why we are proud to offer employment opportunities to members of minority groups, helping to support their livelihoods and provide them with a brighter future. By choosing our organic products, you are not only improving your own health and beauty, but you are also making a positive impact on the lives of others. Join us in making a difference today.

Your Trust Inspires Us
In just four years, our Eczema RoutINA™ has become a favourite natural solution for eczema, with over 100,000 bottles delivered worldwide. The pride we take in our low return rate (below 1%) validates our dedication to quality and customer satisfaction.
Secure & Swift Delivery
Payment Methods: by card
- PayPal
- Master Card
- Visa
Deliveries are made with the courier services of USPS. The delivery is within 2-4 working days.
Delivery prices:
Courier services of USPS - 4.99 USD
FREE Shipping for orders over 79 USD
Our Guarantee: Your Satisfaction
We hope that you are delighted with your order, but if for some reason you are not we have set out below a summary of your rights in the event that you wish to return a product :)
☑FAMILY GUARANTEE - If you use our RoutINA™ for 90 days (3-month supply) and don't see a result - you get a full refund + 40 pounds worth of organic products of your choice!
Important: The refund guarantee only works if you order a 3-month supply option. If you order 2 month's supply and after that 1-month supply it will not be active
There is no refund currently for single products in our store. The refund guaranty is only for the 3-month RoutINA™
Important: Even if you ordered single product we will find a way to compensate you and make you happy so contact us :) For us making every customer happy is key!
How your future with RoutINA looks like:
During the first month, our Eczema RoutINA™ starts to work its magic. Your skin starts to calm, and you'll notice fewer flare-ups. This is because our products begin to soothe your skin, reducing inflammation and fight existing eczema lesions.
In the second month, we go deeper. Our Eczema RoutINA™ focuses on the real root of the problem - the skin's impaired barrier and the overactive skin response. Our products work to restore the skin's barrier function and balance the skin response, reducing the frequency and severity of flare-ups.
By the third month, you'll notice something amazing. Your skin begins to manage eczema on its own. That's because our products have been training your skin, improving its natural defending mechanisms. You'll notice a significant drop in flare-ups and see your complexion become more balanced and healthier. It's not just about fighting eczema; it's about building stronger, more resilient skin.
FAST.EASY.EFFECTIVE.
How to use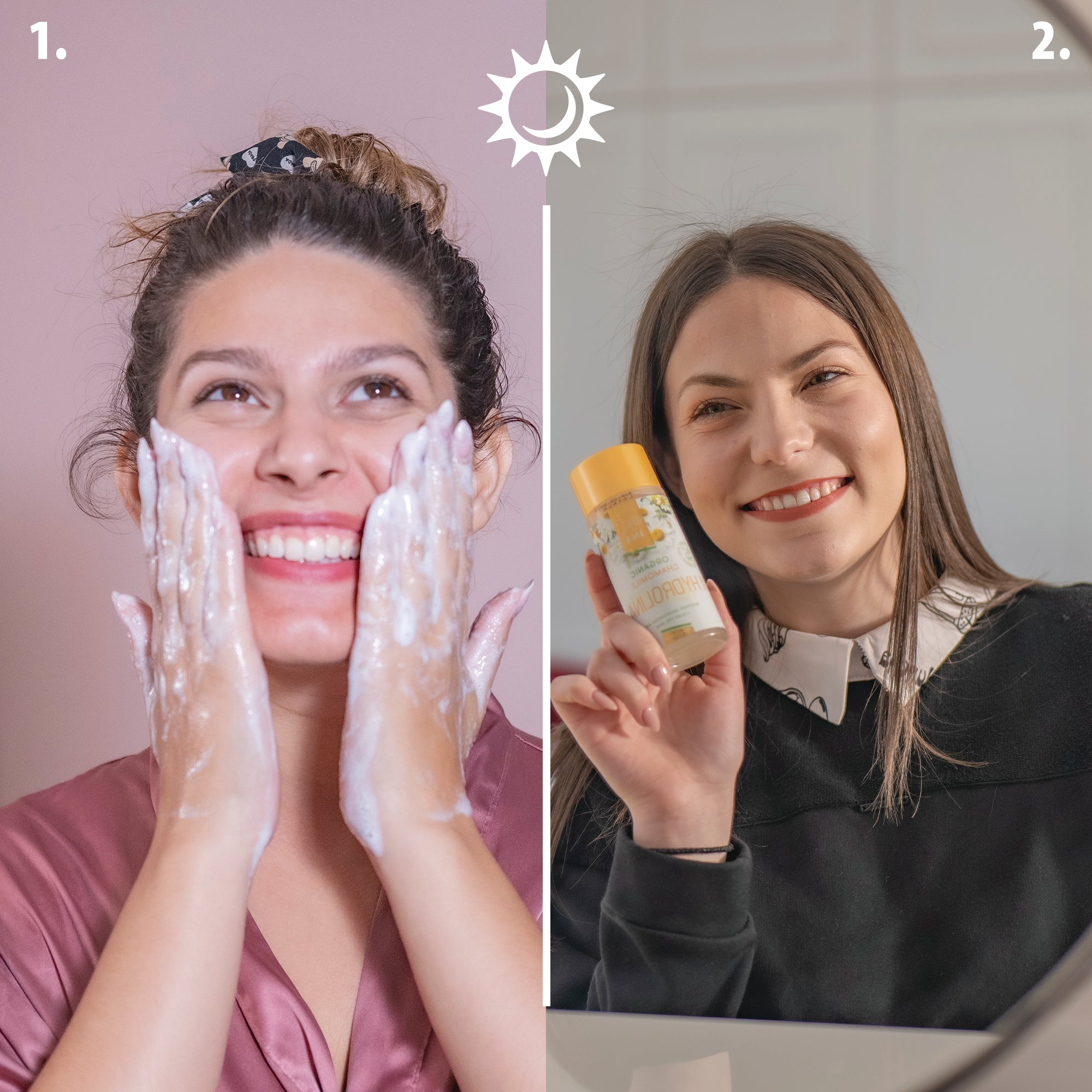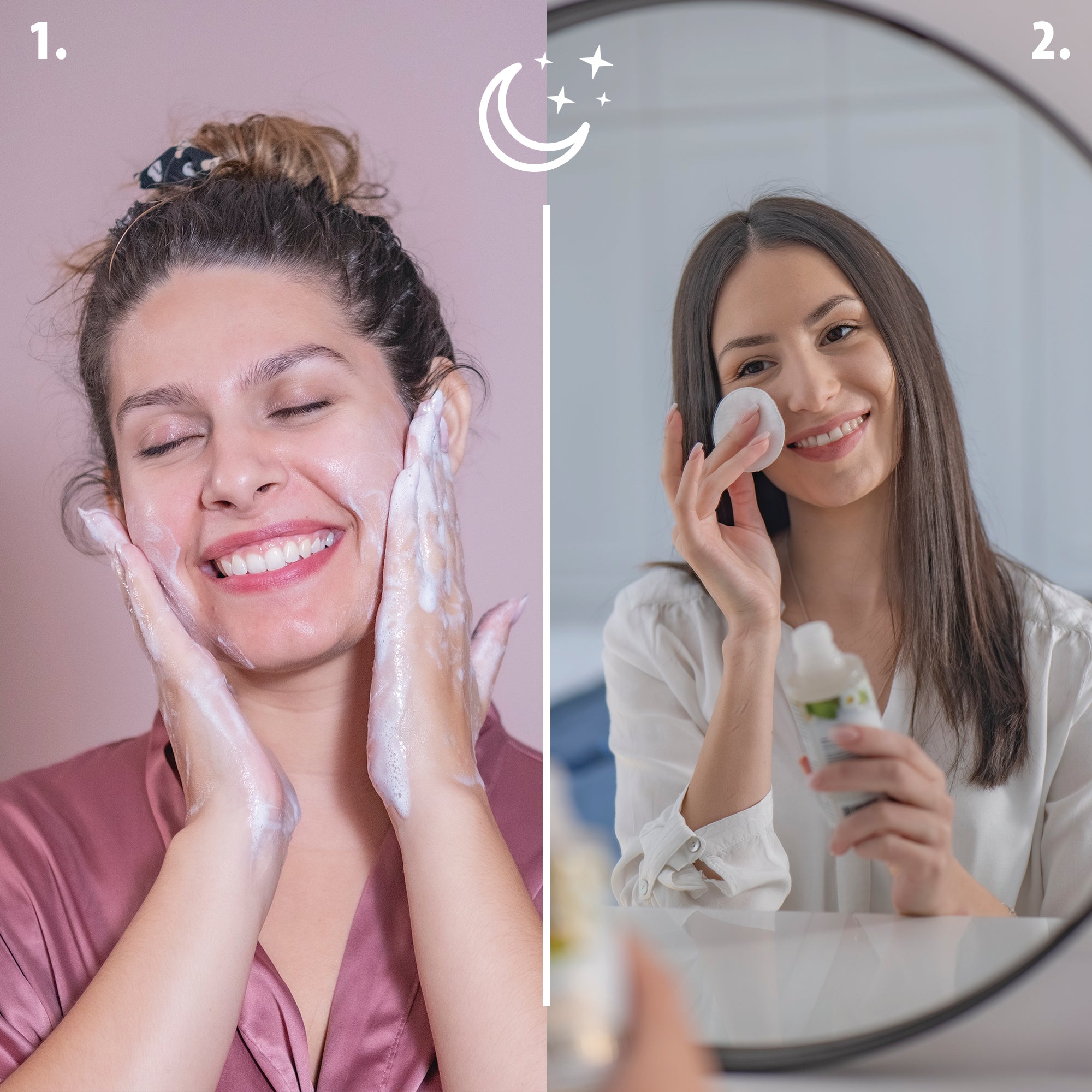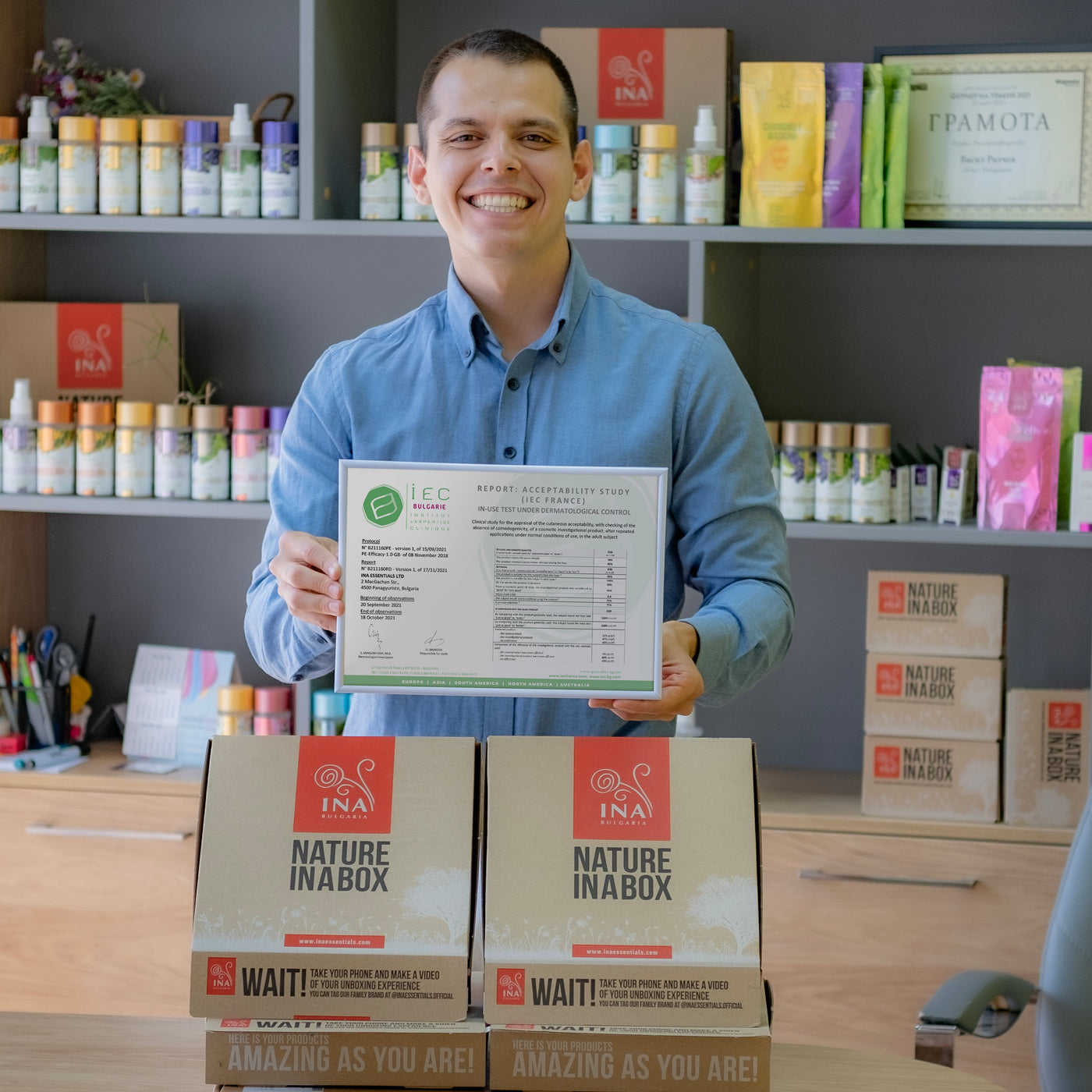 We have developed and trademarked the RoutINA™ formula. Clinically tested in a third-party study in Phenbiox Italy.
Our Eczema RoutINA™ demonstrated the following results in 90 days:
16% Reduces skin scaliness
33% Increases skin firmness
54% Helps skin to retain moisture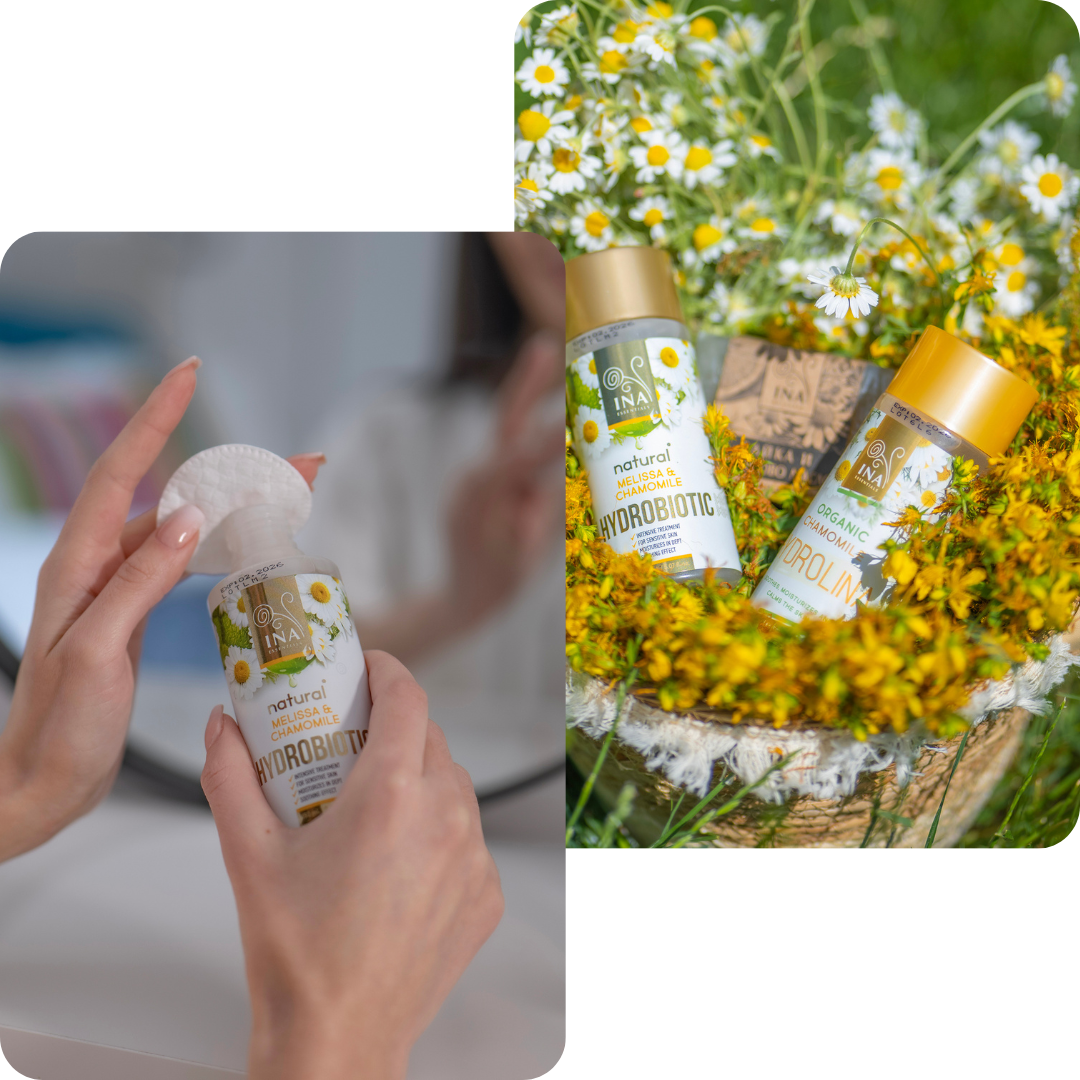 YOUR SKIN- YOUR CHOICE.
Ditch the chemicals.
Give up products full of chemicals of unknown origin. Go back to the basics and choose the natural way for solving your skin problems.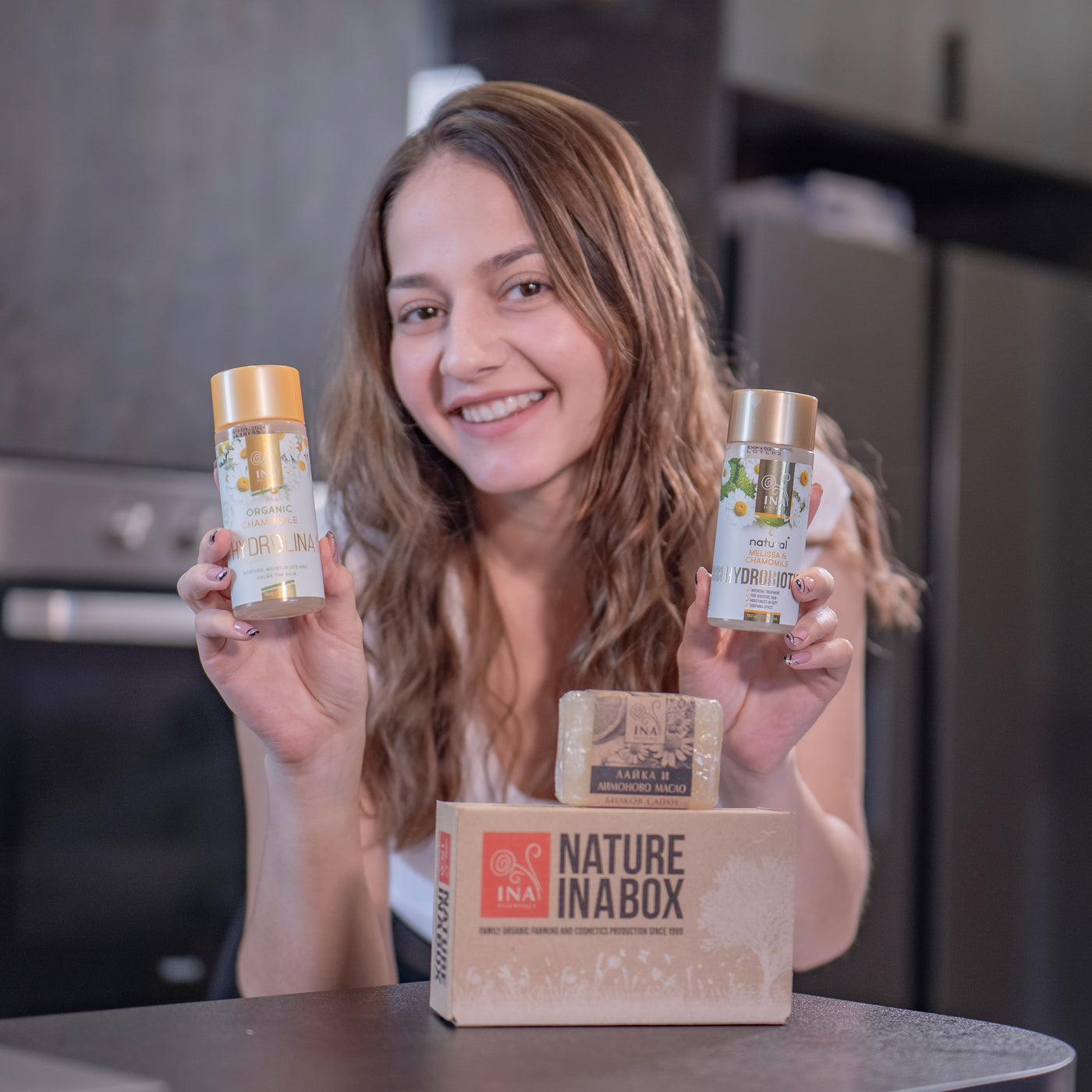 Your nature-based new best friend.
Feel nature's delicate touch on your skin. Each product is rich in high-quality essential oils which give your skin pure, natural beauty. Crafted from handpicked herbs at our family distillery, their magic is bottled just for you.